January 2023 global air passenger traffic reached 84.2 percent of January 2019 levels, a significant increase from the 76.9 percent recovery rate it reached in December 2022, according to the International Air Transport Association.
Total January 2023 traffic, measured in revenue passenger kilometers, was up 67 percent versus a year prior. Global capacity increased 35.5 percent, representing 86.5 percent of January 2019 capacity. Global passenger load factor was up 14.7 percentage points to 77.7 percent. 
The Asia-Pacific region, continuing to open up after Covid-19 shutdowns and entry restrictions, reported the biggest improvements, with traffic up 114.9 percent year over year. Africa followed with 113.8 percent growth. Demand in the largest region, Europe, with a nearly 31 percent share of global traffic, increased 53.2 percent versus a year prior.
"Air travel demand is off to a very healthy start in 2023," IATA director general Willie Walsh said in a statement. "The rapid removal of Covid-19 restrictions for Chinese domestic and international travel bodes well for the continued strong industry recovery from the pandemic throughout the year. And, importantly, we have not seen the many economic and geopolitical uncertainties of the day dampening demand for travel."
[Report continues below chart.]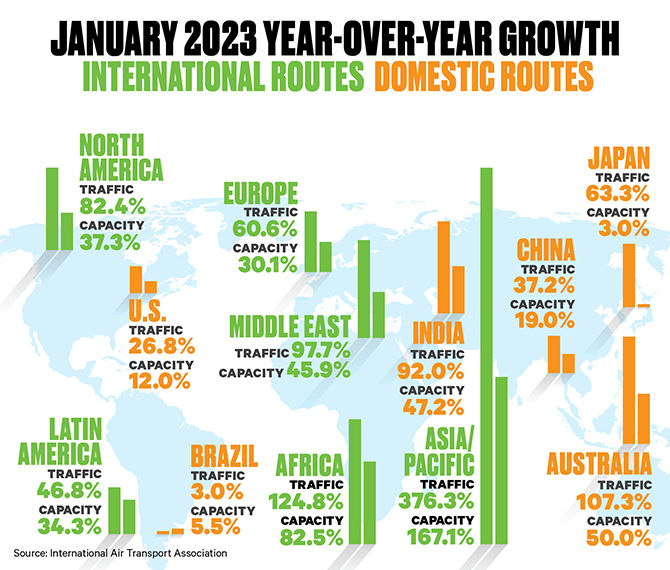 International demand in January continued increasing, up 104 percent year over year, with capacity up 53.7 percent. Asia-Pacific again reported the biggest improvements among regions, with traffic growing 376.3 percent and capacity 167.1 percent per the prior year. Latin America reported the slowest demand growth, with traffic up 46.8 percent. Europe had the slowest capacity growth at 30.1 percent.
Domestic demand in January increased 32.7 percent year over year, while capacity was up 16.3 percent. Australia reported the highest gains, with traffic up 107.3 percent and capacity up 50 percent. Demand in the United States increased 26.8 percent for the month, a solid gain over the 4.3 percent growth in December. 
"With strong travel demand continuing through the traditionally slower winter season in the Northern Hemisphere, the stage is set for an even busier spring and summer," Walsh said. "At a time when many are just beginning to enjoy their newly restored travel freedoms, it is especially disappointing to see the Dutch government making plans to limit their movements by unilaterally and unjustly reducing operations at Schiphol Airport."
RELATED: IATA: 2022 Global Air Traffic More Than Two-Thirds Recovered