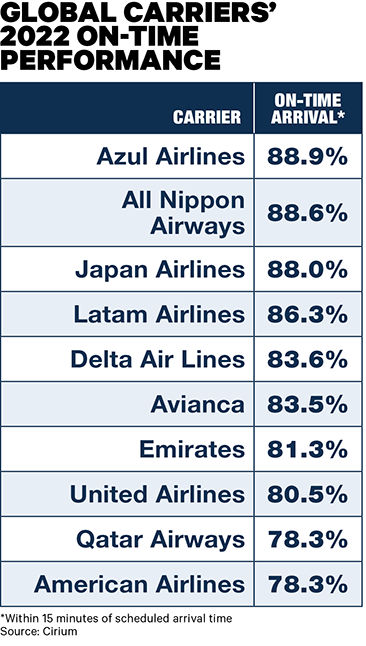 Brazilian airline Azul claimed the global airline top spot for 2022 on-time performance with a rate of 88.9 percent, according to Cirium's annual on-time performance review. All Nippon Airways (88.6 percent) and Japan Airlines (88 percent) followed.  
All three of the largest U.S. carriers made the top 10 global list: Delta Air Lines in fifth at 83.6 percent, United Airlines eighth at 80.5 percent and American Airlines 10th at 78.3 percent. 
In addition, Delta Air Lines for the second year in a row was the Cirium Platinum Award winner for global operational excellence. The platinum award takes into consideration on-time performance, operational complexity and an airline's ability to limit the impact of flight disruptions to its passengers, according to Cirium.  
Delta also remained in the top spot for 2022 on-time performance among North American carriers after Cirium released final results for the year. The company's updated list showed all of the top 10 North American carriers dipped slightly in overall on-time performance once the full year's results were counted and included the end-of-the-year holiday period's inclement weather conditions. The prior rankings, released last week, covered only the period from Jan. 1 through Dec 15. The single change in the rankings was United Airlines and Alaska Airlines trading places at No. 2 and No. 3, with United besting Alaska by just one-tenth of a percentage point. 
Cirium's global rankings include carriers that are among the top 10 percent of passenger airlines in terms of available seat kilometers, flights and seats and that serve at least three global regions. The firm also ranks carriers regionally, including those that do not meet all those criteria.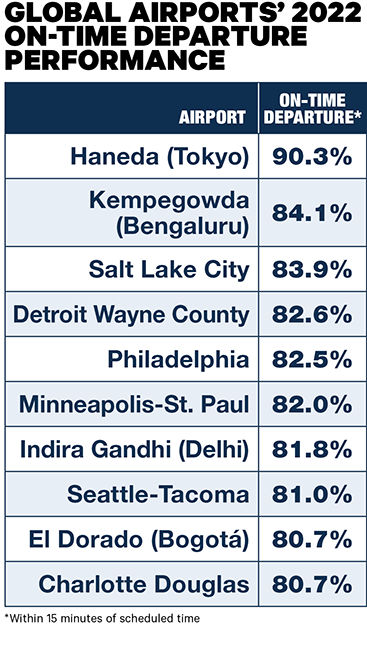 Europe's leading 2022 on-time airlines included Iberia at 85.9 percent, Air Europa at 84.1 percent and Iberia Express at 83.8 percent. Azul in Latin America was followed by Sky Airline at 88.7 percent and Copa Airlines at 88 percent. In the Asia-Pacific region, Thai AirAsia was in first at 91.6 percent, with All Nippon Airways second and Japan Airlines third. For the Middle East, Oman Air was first at 91.4 percent, Royal Jordanian Airlines second at 86.8 percent and Kuwait Airways third at 81.6 percent. 
Cirium also released the top 10 global airports for on-time departures. Tokyo's Haneda Airport, which also took the top spot in 2021, led with 90.3 percent, followed by Kempegowda International Airport Bengaluru at 84.1 percent. Six of the remaining eight top 10 airports, the same number as last year, are located in the United States, with Salt Lake City in the overall third place at 83.9 percent, followed by Detroit in fourth at 82.6 percent. Further, U.S. airports took 13 of the top 20 rankings.
Global airlines operated more than 31 million scheduled passenger flights in 2022, a 26 percent increase compared with 2021, according to Cirium. Seat capacity grew 32 percent. The industry overall, however, is still performing below pre-pandemic levels. Scheduled flight departures for 2022 were 19 percent below 2019 levels, with fourth-quarter departures down 16 percent. 
Cirium used data from more than 600 global sources between Jan. 1 and Dec. 31 for the report.  
RELATED: Delta Leads 2021 On-Time Performance for N. American Carriers