LOS ANGELES - As one atmospheric river departs California, it leaves the door for another one to sweep in (again).
Much of Southern California was hit Wednesday by winter's 11th atmospheric river, which flooded roadways, caused landslides and toppled trees throughout the state.
Water pooled on roadways in the region, rocks and mud littered others, and there were reports of potholes that disabled numerous cars. Flooding closed several miles of Pacific Coast Highway through Huntington Beach, south of Los Angeles on the Orange County coast. 
SUGGESTED: Atmospheric river batters California with flooding rains, wind
Flood watches and advisories that had been issued across most of Los Angeles County were lifted by mid-morning Wednesday. But the heavy overnight rain left lingering impacts.
At LAX, 1.97 inches was reported Tuesday by the NWS, the sixth most for any day in March. The record daily rainfall at LAX for March was 3.1 inches set on March 7, 1968.
In downtown Los Angeles, 1.89 inches was reported, the 24th most for any day in March. The record daily rainfall for March for downtown LA  was 5.88 inches on March 2, 1938.
SUGGESTED: Storm wreaks havoc across LA County
At Long Beach Airport, 1.53 inches of rain fell, the seventh most for any day in March. The record daily rainfall for March for Long Beach Airport was 3.46 inches on March 1, 1983.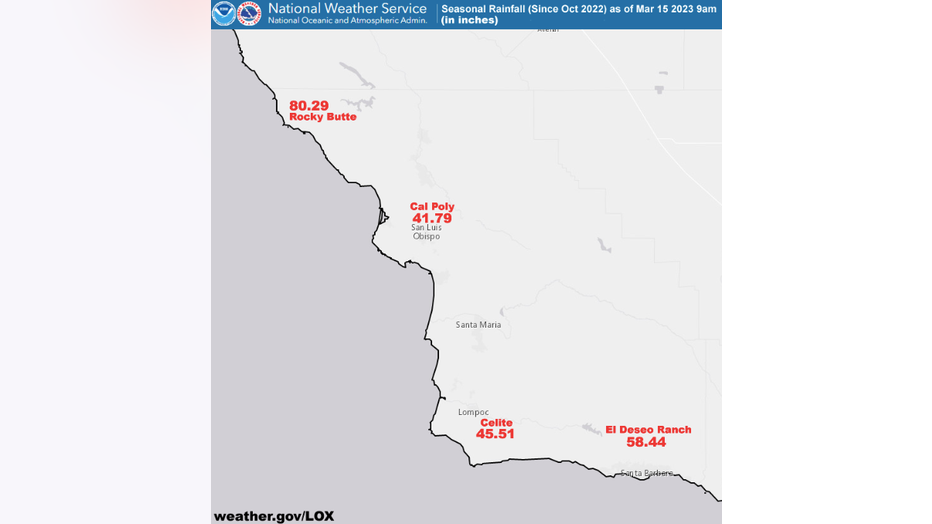 Graphic courtesy NWS Los Angeles
California's latest atmospheric river was one of two storm systems that bookended the U.S. this week. Parts of New England and New York were digging out of a nor'easter Wednesday that caused tens of thousands of power outages, numerous school cancellations and whiteout conditions on roads.
Gov. Gavin Newsom issued emergency declarations for three more counties on Tuesday, raising the total to 43 of the state's 58 counties.
SUGGESTED: Orange County declares local state of emergency
This comes as the season's 12th atmospheric river takes aim at California next week. According to the National Weather Service, the next storm system is expected to hit around Tuesday.
"More rain on the way, especially next week around Tuesday. Here are some probabilities for different rainfall amounts at selected sites," the NWS said.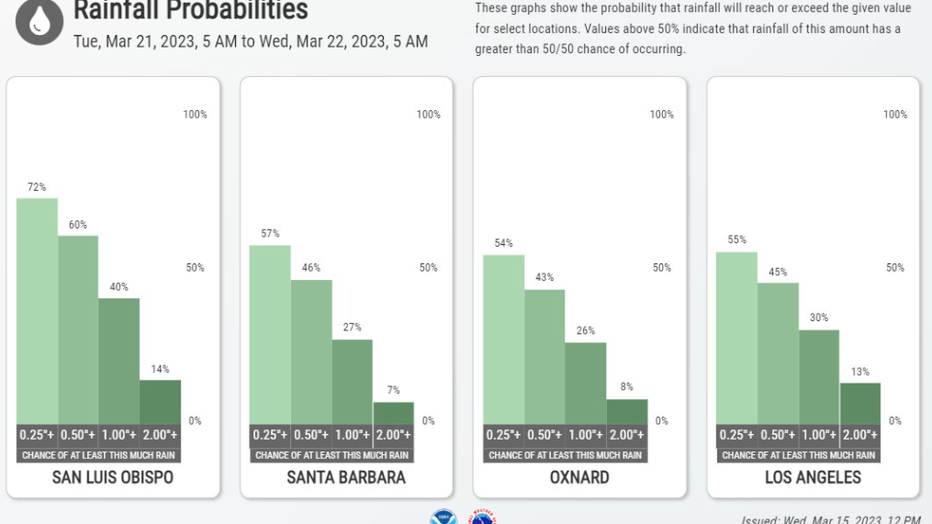 Graphic courtesy NWS Los Angeles
California was deep in drought before an unexpected series of atmospheric rivers barreled into the state from late December through mid-January, causing flooding while building a staggering snowpack in the Sierra Nevada.
SUGGESTED: California sees further improvements in drought conditions
Storms powered by arctic air followed in February, creating blizzard conditions that buried mountain communities under so much snow that structures began collapsing.
The water content of the Sierra snowpack is now more than 200% of the April 1 average, when it normally peaks, according to the state Department of Water Resources.
The Associated Press and City News Service contributed to this report.